Women with dense breasts or a family history of breast cancer should start getting mammograms from the age of 30, not 50, a new study suggests.
Previously, groups like the American Cancer Society have pushed for women with clear risk factors to get screened in their 40s.
But few studies have looked at women in their 30s or younger, when breast cancer is far less common.
The new report, based on more than five million mammograms across the US, found cancer was spotted just as much among high-risk women in their 30s as average-risk women in their 40s.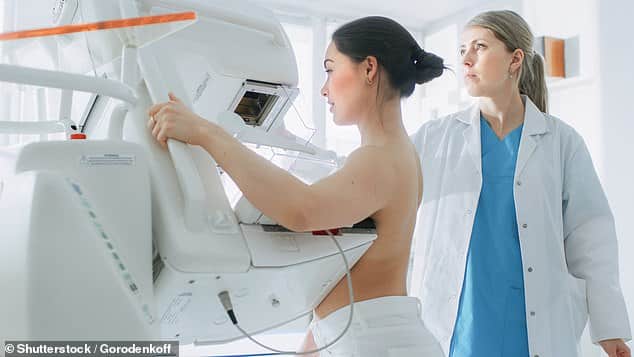 'Women under 40 have not been the focus of our attention when it comes to breast cancer screening,' said Cindy S. Lee, MD, assistant professor of radiology at NYU Langone Health in New York City.
'Everyone is talking about the 40 to 49 range, and not the 30 to 39 age range. It's difficult to study this group because most women in this age range do not get mammograms, but some of these young women have increased risk for breast cancer and may need earlier and/or supplemental screening.'
The findings, which will be presented later today at the annual meeting of the Radiological Society of North America (RSNA), are based on data from more than 31 states between 2008 and 2015. 
Using data from the National Mammography Database, they compared the outcomes of screening women in their 30s with risk factor versus women in their 40s without risk factor. 
There is a myriad of different ways to measure a woman's risk of breast cancer, but Lee's team chose 'a simpler and more inclusive way', featuring most of the known risk factors, including family history of breast cancer in any first-degree relative regardless of their age and a personal history of breast cancer.
Unlike most risk models, they also ranked a woman as 'high risk' if she had dense breasts.
Breast density is not always counted as a clear 'red flag' to radiologists because it is not as threatening as genetic risk factors or a family history.
However, it is increasingly a focus of researchers, patients and doctors alike. 
'The reason that it's getting attention is because there are a lot more people who do have it than those who have genetic mutations,' Dr R Jared Weinfurtner, MD, a radiologist at Moffitt Cancer Center, told DailyMail.com. 
What's more, he said, there's no way of telling who has dense breasts, nobody has a higher risk factor; the only way to find out is using a mammogram, and only 36 states have rules requiring radiologists to tell a woman her breast density. 
For women in their 30s concerned about whether or not they have dense breasts, it may be a misnomer. Breast density changes over time, and it is not binary – entering the 'dense' threshold doesn't necessarily make you high risk. 
'Patients who are younger are more likely to have dense breasts because the breasts become more fatty as they get older,' Dr Weinfurtner explains. 'So you're more likely when you're younger to have dense breasts – but you may not meet the category for dense breasts.'  
As such, getting a mammogram is the only way to work out whether you are at risk. 
But American Cancer Society vice president Robert Smith, PhD warns there are some caveats to the new study recommending mammograms from the age of 30. 
The study does not offer a break-down of how many women were screened in this higher-risk group, how many high-risk women had normal examinations, and how many went onto be diagnosed with breast cancer.
'Among women younger than age 40, we would need to screen more than 1,000 women in order to detect one breast cancer,' Dr Smith said. 
'The reason the American Cancer Society recommends screening start no later than 45 years of age is because the burden of disease and the risk of harm does not significantly change between the ages of 45 to 49, and 50 to 54. 
'Risk increases gradually, but overall among these 22 million women, the proportion of deaths from breast cancer, and the measures of premature mortality are about the same.'
When it comes to urging younger women to get screened earlier, Dr Smith said it's not a wild suggestion – in fact, it is expected that women who know they have higher risks should be monitoring themselves more than their lower-risk peers.
'If these women can be identified at an earlier age when their risk is much higher than average, it is worthy to consider whether beginning screening earlier will be beneficial,' he said. 
'Any woman younger than 40 years with a prior history of breast cancer would be expected to get regular mammograms, and thus, it is not unreasonable for women with a family history, especially a worrisome family history (a diagnosis in a first degree relative under age 50) would begin screening before age 40.'