Governments should consider advising people to abstain entirely, say, authors
Even the occasional drink is harmful to health, according to the largest and most detailed research carried out on the effects of alcohol, which suggests governments should think of advising people to abstain completely.
The uncompromising message comes from the authors of the Global Burden of Diseases study, a rolling project based at the University of Washington, in Seattle, which produces the most comprehensive data on the causes of illness and death in the world.
Alcohol, says their report published in The Lancet medical journal, led to 2.8 million deaths in 2016. It was the leading risk factor for premature mortality and disability in the 15 to 49 age group, accounting for 20% of deaths.
Current alcohol drinking habits pose "dire ramifications for future population health in the absence of policy action today", says the paper. "Alcohol use contributes to health loss from many causes and exacts its toll across the lifespan, particularly among men."
Most national guidelines suggest there are health benefits to one or two glasses of wine or beer a day, they say. "Our results show that the safest level of drinking is none."
The study was carried out by researchers at the Institute of Health Metrics and Evaluation (IHME), who investigated levels of alcohol consumption and health effects in 195 countries between 1990 to 2016. They used data from 694 studies to work out how common drinking was and from 592 studies including 28 million people worldwide to work out the health risks.
Moderate drinking has been condoned for years on the assumption that there are some health benefits. A glass of red wine a day has long been said to be good for the heart. But although the researchers did find low levels of drinking offered some protection from heart disease, and possibly from diabetes and stroke, the benefits were far outweighed by alcohol's harmful effects, they said.
Drinking alcohol was a big cause of cancer in the over-50s, particularly in women. Previous research has shown that one in 13 breast cancers in the UK were alcohol-related. The study found that globally, 27.1% of cancer deaths in women and 18.9% in men over 50 were linked to their drinking habits.
In younger people globally the biggest causes of death linked to alcohol were tuberculosis (1.4% of deaths), road injuries (1.2%), and self-harm (1.1%).
In the UK, the chief medical officer Sally Davies has said there is no safe level of drinking, but the guidance suggests that drinkers consume no more than 14 units a week to keep the risks low. Half a pint of average-strength lager contains one unit and a 125ml glass of wine contains around 1.5 units.
While the study shows that the increased risk of alcohol-related harm in younger people who have one drink a day is small (0.5%), it goes up incrementally with heavier drinking: to 7% among those who have two drinks a day (in line with UK guidance) and 37% for those who have five.
One in three, or 2.4 billion people around the world, drink alcohol, the study shows. A quarter of women and 39% of men drink. Denmark has the most drinkers (95.3% of women, and 97.1% of men). Pakistan has the fewest male drinkers (0.8%) and Bangladesh the fewest women (0.3%). Men in Romania and women in Ukraine drink the most (8.2 and 4.2 drinks a day respectively), while women in the UK take the eighth highest place in the female drinking league, with an average of three drinks a day.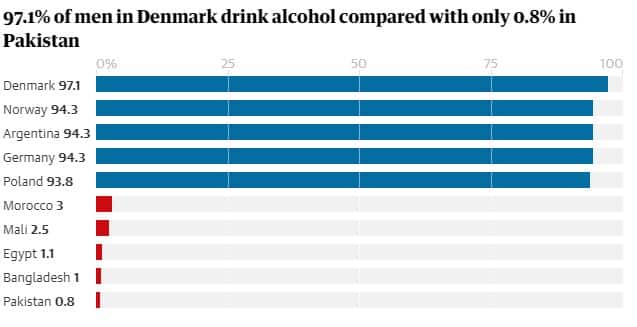 "Alcohol poses dire ramifications for future population health in the absence of policy action today. Our results indicate that alcohol use and its harmful effects on health could become a growing challenge as countries become more developed, and enacting or maintaining strong alcohol control policies will be vital," said the report's senior author, Prof Emmanuela Gakidou.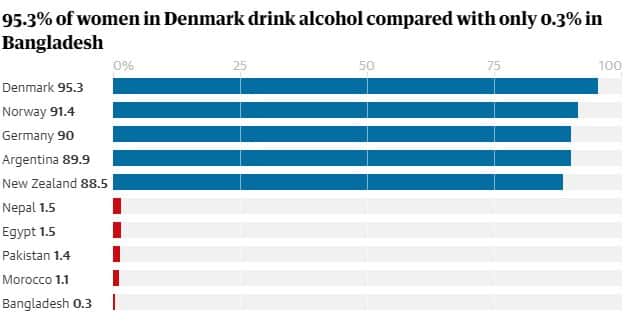 "Worldwide we need to revisit alcohol control policies and health programs and to consider recommendations for abstaining from alcohol. These include excise taxes on alcohol, controlling the physical availability of alcohol and the hours of sale, and controlling alcohol advertising. Any of these policy actions would contribute to reductions in population-level consumption, a vital step toward decreasing the health loss associated with alcohol use."
Dr. Robyn Burton, of King's College London, said in a commentary in the Lancet that the conclusions of the study were unambiguous. "Alcohol is a colossal global health issue and small reductions in health-related harms at low levels of alcohol intake are outweighed by the increased risk of other health-related harms, including cancer," she wrote.
"There is strong support here for the guideline published by the Chief Medical Officer of the UK who found that there is 'no safe level of alcohol consumption."
Public health policy should be to prioritize measures to reduce the numbers who drink through price increases, taxation, or setting the price according to the strength of the drink (minimum unit pricing), followed by curbs on marketing and restricting the places where people can buy alcohol.
"These approaches should come as no surprise because these are also the most effective measures for curbing tobacco-related harms, another commercially mediated disease, with an increasing body of evidence showing that controlling obesity will require the same measures," she wrote.
Ben Butler, a Drinkaware spokesperson, said: "This new study supports existing evidence about the harms associated with alcohol. Our research shows that over a quarter of UK adults typically exceed the low-risk drinking guidelines and are running the risk of serious long-term illnesses."
But David Spiegelhalter, Winton professor for the public understanding of risk at the University of Cambridge, said the data showed only a very low level of harm in moderate drinkers and suggested UK guidelines were very low risk.
"Given the pleasure presumably associated with moderate drinking, claiming there is no 'safe' level does not seem an argument for abstention," he said. "There is no safe level of driving, but the government does not recommend that people avoid driving. Come to think of it, there is no safe level of living, but nobody would recommend abstention."