THIS was the shocking moment an "ex-model" was bitten on the face by a dog as she stroked it at a restaurant.
The woman needed plastic surgery following the horror attack in Arvada, near Denver, Colorado.
CCTV footage shows her patting the husky in front of her before it suddenly pounces and sinks its teeth into her face.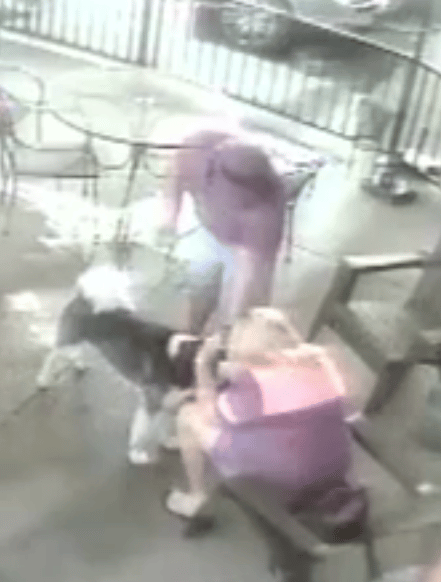 Police released the clip of the August 7 attack in a bid to find the dog's owner, who was filmed leaving the restaurant.
On Friday, she voluntarily went to the police station with a lawyer so investigators could inspect the dog and check whether its vaccinations were up to date.
The attack took place in front of a number of people outside Rockabillies Bar and Grill.
Other diners are also captured petting the dog in the CCTV footage.
The dog's owner, who was sitting just feet away, was filmed jumping up to check on the woman.
But as other people also ran to help her, the owner was seen picking up her own belongings and quickly leaving with the dog.
Police said the victim, reported to be a former model, had to be treated in hospital for eye injuries and had plastic surgery as a result of the attack.
She is expected to regain vision in her injured eye.
The owner of the bar told the Denver Channel that the victim was mostly concerned whether the dog had rabies and was relieved to learn police would be checking the animal for diseases.