10 Best Books For Anatomy
During my medical training one of the most challenging and difficult-to-memorize subjects would definitely have to be anatomy.
Anatomy is the study of body structure, hence detailed images and textual explanations are necessary for effective studying.
All the bulky information about the muscles, bones, blood vessels, nerves etc students, surgery residents have to memorize in a short period of time might become quiet nerve-wrecking.
Thankfully there are a lot of anatomy textbooks and atlases that help you create a perfect picture of all of anatomy structures, memorize their physical characteristics so that you can get top marks on your exams, impress the surgeon on clinical rotations and so on.
If you are medical/nursing/biology student or a resident, who thinks that anatomy is an impossible subject to conquer, you are in the right place to get some help.
We have prepared top 10 anatomy books and platforms according to medical students and residents.
1) Atlas of Human Anatomy (Netter Basic Science)
One of the most popular choices for learning anatomy. This atlas has a very detailed region by region visual coverage, published in over 9000 languages.
The Author being a doctor himself drew about 4k illustrations. Then it was all blinded into a magnificent, if not the best, atlas.
The Atlas of Human Anatomy contains high-quality and visual illustrations of all organs and anatomical systems of the human body; consists of 8 parts, built in accordance with the topographic principle; it can be used by students studying both topographic and normal human anatomy.
The new edition of the atlas is supplemented with X-ray images, CT, and MRI images, which expands its clinical focus.
It contains only a small amount of text, so it is perfect as an addition to other textbooks.
Besides Netter's Atlas, there are 2 amazing little books. One of them is Netters Coloring book By John T. Hansen, which in fact is the second best-seller anatomy book on Amazon.
This method really helps you visualize and memorize all the structures while coloring them in different colors, plus all pictures come with small very high-yield texts and even clinical notes for some chapters.
I mostly used the coloring book after or in parallel to reading the textbook, when you take your time to mark the structures by yourself you get this picture in your brain which pops up in right time when you need it, well that's what happened in my case.
Especially helpful chapter for me was of the Cardiovascular System. The only con is that it mostly takes quit a lot of time to color all the structures you need to memorize.
The second one is – Netter's Flashcards. Each flash card in this deck features high-quality Netter images and concise clinical notes for the most commonly tested anatomy topics and concepts.
Focusing on clinically relevant anatomy, this portable study tool is a great way to learn and remember nerve, blood supply, origin, insertion function of any muscle in the body.
2) Moore's clinical anatomy
Co-authored by Dr. Keith L. Moore, Arthur F. Dalley, and Anne M. R. Agur
This anatomy textbook is my personal favorite when it comes to clinical cases and correlations. Each chapter has its clinical correlation boxes at the end, which really helps to clarify the clinical significance of medical anatomy.
There are several editions of this textbook updating every now and then, in the latest, 8th edition the volume of clinical information is expanded – it is placed in special sections, which are highlighted in blue.
This book has some of the most professionally done charts and images. The text is accompanied by numerous photographs and / or color illustrations to facilitate the practical development of anatomy.
A functional approach to describing the musculoskeletal system allows us to understand how individual muscles and muscle groups support our daily activities.
It describes and compares X-rays and images obtained using MR, CT, ultrasound examination, as well as drawings and comments to them.
The material will allow future specialists to master the skills of making a diagnosis based on the study of medical pictures and images.
Plus it has a mini version, Moore's Essential Anatomy, which is great for a quick revision for an important exam.
Moore's flashcards – Probably the most effective way to memorize most the high-yield details in anatomy like, proximal and distal muscle attachment, their innervation and blood supply.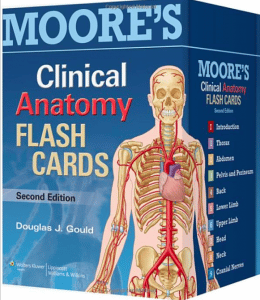 3) Gray's Anatomy For Students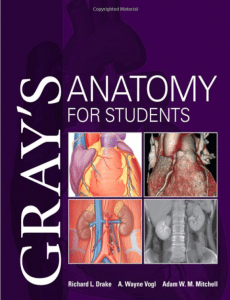 A classic human anatomy textbook which was first published in 1858 in London and written by Henry Gray.
Some even call it Bible for anatomy, maybe that's why it became the inspiration for naming of one the most famous medical show – "Grey's anatomy"
Gray's Anatomy for Students, 4th Edition, a reduced version of original Gray's anatomy, is a go-to book for essential information in human anatomy for a lot of medical students, residents.
It helps students comprehend the clinical applications of anatomical concepts through unique coverage of surface anatomy, clinical case studies corresponding diagnostic images. It's also one of the best when it comes to diagrams.
Unfortunately this book does not cover neuroanatomy topics
Gray's anatomy flashcards for students has a set of over 400 flashcards. It gives the perfect review and is very fun to learn, memorize anatomy with less tears in your eyes.
It's portable, concise, and simply one of the best companions for your anatomy exam or USMLE STEP1 preparations.
4) A Photographic Atlas (Color Atlas of Anatomy a Photographic Study of the Human Body)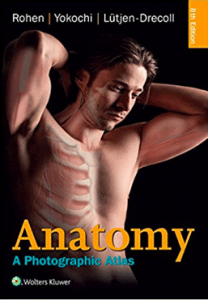 What's special about this textbook is that it uses pictures of real cadavers donated to science, this ensures that students are provided with the most realistic visuals of the human body.
It shows the body's diverse layers through detail. So when it comes to surgeries or practical assessment of the human body this book can get you prepared very well.
The photographs of cadavers instead of drawings, helps you get a better visualization of anatomical regions. It also includes CT scans, endoscopic techniques and MRI scans.
As a bonus they provide additional medical highlights and maximize the student's comprehension of human anatomy.
In terms of learning anatomical structure for surgeries or practical assessment of human body this is the 2nd best resource, the first one is of course learning anatomy from a cadaver itself.
5) Thieme Anatomy: An Essential Textbook By Gilroy
Thieme Atlas Of Anatomy and Essential Textbook By Gilroy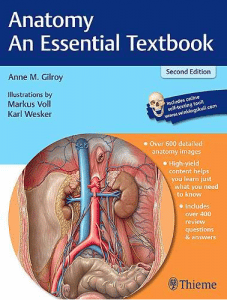 Containing over 120 anatomy tables and 400 in-depth questions which help you visualize and memorize all the important aspects of anatomy.
In the atlas, anatomical images are accompanied by questions that focus the student's attention on high-yield details that are especially important in preparing for exams.
Each detail is associated with a specific anatomical area, that provides a better understanding of the anatomical approach.
The components of each anatomical region are presented as systems and provided with topographic images. This allows you to link data for each of the systems and get an overview of a specific anatomical region.
In general, attention is paid to the clinical perspective of these anatomical structures. The unique format of the illustrations presented on the spreads allows the reader to carefully research the desired area or issue.
6) Sobotta Atlas Of Human Anatomy

Sobotta Atlas of Human anatomy comes in 3 volumes, containing: general anatomy, musculoskeletal system and neuroanatomy. It's appropriate not only for students but also for medical professionals.
With a combination of detailed anatomy according to the latest state of knowledge this anatomy atlas guides medical students through the human body step by step. The representations are rich in detail and visually appealing.
The Sobotta Atlas relates classical anatomical knowledge to specific clinical cases and supports practical application with many helpful dissection tips.
It also contains a smaller study booklet with all the essential diagrams and tables of nerves, muscles and joints for quick revision.
Online Medical Studying Tools
Since we are living in a "digital" century everything can be found online, making our lives so much easier.
Online educational platforms have a remarkably significant role when it comes of studying anatomy.
There are countless types of anatomy-learning platforms that use 3D human body models to help you visualize the structures in detail and also give an thorough explanation of all their functions and corresponding clinical correlations.

With the help of this world's most advanced 3D anatomy platform, you simply investigate any region of the body, even cut them up and isolate different structures. Besides visualizing, you get a complete information about any structure you select.
Unfortunately, just like all the good things it does not come free and are considered to be quite pricy for medical students. But the good news is that a lot of medical schools have bought this application and so that their students can utilize it for studying.
So, before purchasing the app make sure to ask the university whether to they have it or not first.
In times when I was getting sick of flipping through the textbooks and needed someone to explain it to me the night before the most nerve-wrecking exams, Anatomy zone videos have been a life-saver for me.
These videos are very explanatory, they cover nearly all the details you might need for tests by giving you a full 3D virtual visualization of all the anatomical regions you search for with appropriate voice-overs.
At the end of the day, the only way to master anatomy is to revise it every now and then.
In fact, there are numerous studies conducted looking for the most effective way of learning/memorizing strategies and the answer is – spaced repetition approach or we can also call it constant intermittent revision with increasing intervals.
ANKI is a platform by which you can create your own flashcards of the things you've studied or use the decks made by others by simply searching anatomy flashcards.
Most of the flashcards are made for USMLE preparations with appropriate pictures and clinical correlations.
With the help of ANKI you can simply recheck your knowledge every now and then to strengthen your memory, not only in anatomy but nearly in all medical and non-medical subjects.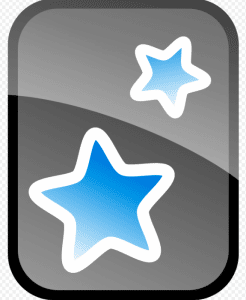 The last one our list but definitely not the least is the learning platform "KENHUB" a platform that offers anatomy tutorials on YouTube to prepare for exams as well as to accompany lectures and course.
KENHUB Anatomy provides most easy-to-understand videos and texts and is considered to be one of the best learning platforms for physicians, surgeons, residents and medical students.
Since it covers all the crucial subjects of USMLE I definitely recommend this platform for those getting prepared for STEP 1.
The tutorials include Structures of the human body, Anatomical regions, Histology, Sectional Anatomy & Medical Imaging.
"Kenhub" works closely with scientists and medical professionals to put together the tutorials and clarify complex anatomical complexes with detailed illustrations.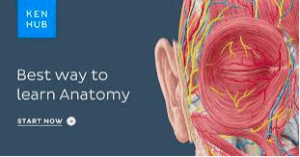 See Also
References:
https://www.kenhub.com/en/library/education/moore-s-clinically-oriented-anatomy-review
https://youngscrubs.com/anatomy-books/
https://www.amazon.com/gp/bestsellers/books/227595
https://www.youtube.com/watch?v=cVf38y07cfk
https://assets.researchsquare.com/files/rs-625499/v1/05918bc3-8cee-4006-8118-4f23bc598dac.pdf?c=1631886169