Shoulder Arthroscopy Cost | Outcomes
Overview
Shoulder arthroscopy is one of the most popular orthopedic surgery in the world. Rotator cuff tears, labral tears, proximal biceps dysfunction, loose bodies, degenerative joint disease, adhesive capsulitis, and subacromial impingement are all typical diseases treated by shoulder arthroscopy.
Arthroscopy has numerous advantages over open surgery, including a better view of intra-articular diseases, smaller cuts with less postoperative morbidity, the likelihood of a shorter recovery, and an earlier return to work.
To achieve a full and accurate diagnosis of the shoulder, a systematic approach to diagnostic shoulder arthroscopy is necessary with a good assessment of the shoulder joint.
What is Shoulder Arthroscopy?
Shoulder arthroscopy, also known as arthroscopic shoulder surgery, is a useful method for treating pathological conditions.
A skilled surgeon who is familiar with arthroscopic procedures can use the camera to examine the entire shoulder joint and, in most cases, repair the diseased part using newly prepared equipment and devices through quite tiny cuts.
It's a frequent misunderstanding that huge tears can't be treated arthroscopically; in fact, the benefits of visibility and full access to the joint make arthroscopic repairs particularly suitable for large tears.
The goal of the repair is to return the afflicted shoulder to healthy, pain-free movement and peak power.
Indications of Shoulder Arthroscopy
Shoulder conditions that may necessitate an arthroscopy include:
• Instability assessment and management
• Biceps tendon tear or damaged labrum
• Rotator cuff tear
• Shoulder stiffness.
• Decompression of the subacromial space
• Arthritis of the clavicles' end
• Frozen Shoulder
• Loose bodies removal.
• Drainage or debridement infection of the shoulder joint.
Each patient with one of these problems does not necessarily require the procedure, and there may also be other non-listed problems that require an arthroscopic intervention, where each patient is evaluated at a level and the method is determined by management needs that may vary from patient to patient.
Clinical assessment plays a prominent role in decision-making on treatment.
Contraindications of Shoulder Arthroscopy
The following are the possible conditions that interfere with the procedure:
• Shoulder joint infection (if arthroscopy is not directed to drain the infection)
• Medical diseases that make the surgery difficult
• Significant shoulder pathology
• Charcot arthropathy
How Shoulder Arthroscopy is Performed?
The procedure is used to diagnose and manage various shoulder joint diseases. The patients will receive a general anesthetic that will make them sleep.
The procedure has identified steps that are done Sequentially as follows:
Patient Positioning
The lateral decubitus and beach chair postures have both been demonstrated to be comfortable and successful, therefore patients' posture is essentially an issue of doctor opinion.
The lateral decubitus posture aids in the prevention of cerebral hypoperfusion during surgery. In contrast, the beach chair posture enables doctors to modify the arm posture intraoperatively and readily transition to open surgery if necessary.
Patient Preparation
Following the proper positioning, sterile preparation is performed and the surgical site is cleaned with a sterile scrub at home the night before and in the morning of the procedure. In the preoperative area, clippers are used to remove body hair.
Surface Landmarks Identification
Surface landmarks such as the acromion, coracoid process, collarbone, acromioclavicular joint, and scapular spine are recognized and labeled after preparation.
Portals Placement
The surgeon will place the two portals used during the procedure (anterior and posterior). There are 14 different positions of arthroscope established to diagnose and manage different shoulder joint conditions
Risks of Shoulder Arthroscopy
The arthroscopy is safe with limited postoperative complications that include:
• Shoulder stiffness or fibrosis
• Persistent pain
• Postoperative infection
• Neurological injury
• Vascular injury
• Respiratory failure (a condition that interferes with gas exchange in the lung)
• Venous blood clots including DVT and PE
• Chest infection (pneumonia in medical terms)
• Brain ischemia due to hemorrhage or thrombosed artery.
How Long Does Shoulder Arthroscopy Last?
The procedure wants 2 to 3 hours to be done completely. You may be able to go home on the same day of the procedure if your condition permits.
Cost of Shoulder Arthroscopy?
In the United States, the estimated price of arthroscopic shoulder surgery is 25,000$, with various prices from 7,000$ to 32,000$. medical insurance may help by covering a part of this price.
Outcomes
Because patients have varying medical conditions, the time it takes for them to make a full recovery varies.
You may not require a splint if your surgery was minimal, and your power may return within a brief duration of physiotherapy. Within several days of the operation, you may be ready to come back to occupation.
More sophisticated operations take more time to recuperate after. Although the cuts in arthroscopic surgery are minimal, the surgery can correct serious harm within the joint.
It could take weeks or months for you to completely recover. Following your doctor's instructions and physiotherapy program is critical to a successful result.
See Also
References
https://www.ncbi.nlm.nih.gov/pmc/
https://www.medscape.com/viewarticle/540969
https://orthop.washington.edu/patient-care/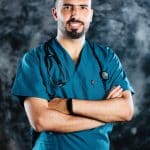 Dr.Sharif Samir Alijla, is a general medical doctor and a well-rounded professional that cares and treats patients from Palestine. I participated in many medical studies and conferences, I've launched a range of community initiatives and taken part in a variety of leadership and change training programs. I worked as an author for many medical websites such as TebFact . I specialized in writing medical articles from authoritative and updated sources in a simple and smooth the way for the reader.