Partial Knee Replacement – Overview
Unicompartmental knee arthroplasty is a surgical procedure that is used to manage osteoarthritis in only one compartment of the knee, most frequently the medial compartment.
In comparison to traditional bicondylar knee arthroplasty, partial knee replacement operation more nearly replicates natural knee kinematics, results in decreased perioperative morbidity and intraoperative hemorrhage, and allows for faster mobilization and recovery.
Improvements in implant design, surgical technique, and surgical indications have all contributed to an increased interest in partial knee replacement.
Additionally, the growing need for minimally invasive procedures has boosted partial knee replacement appeal.
What is Partial Knee Replacement?
Partial knee replacement, also known as unicompartmental knee arthroplasty, is a surgical procedure to remove and replace the bone surfaces of only one compartment of the knee joint, while other compartments' bone surfaces, as well as undamaged cartilage and other soft tissues, remain intact.
Indications of Partial Knee Replacement
Most patients should attempt conservative measures before being involved in the surgery, and they should fit the following criteria:
• Patients over the age of 60
• less than 82 kg in weight
• mild pain at rest
• Only one compartment of osteoarthritis or osteonecrosis
• preoperative arc of movement of more than 90 degrees
• flexion deformity of fewer than 5 degrees
• angular deformity of fewer than 15 degrees that is passively reparable to neutral
Contraindications of Partial Knee Replacement
There are a few contraindications of the surgery, including the following:
• Inflammatory arthritis
• Sepsis
• Previous heterotopic ossification with overcorrection
• Cruciate ligament diseases
• Medial or lateral subluxation
• Tibial or femoral shaft deformity
• Flexion contracture greater than 15 degrees
• Varus deformity greater than 15 degrees
• Valgus deformity greater than 20 degrees
• Flexion less than 110 degrees
How Partial Knee Replacement is Performed?
The procedure is generally performed using general anesthesia in the operating room.
The following are the principal steps of this surgery:
• Making An Incision
The surgeon will make an incision in the front of your knee joint. This incision will permit the surgeon to see the three compartments of the knee joint and determine which one is affected. If all three are affected, the surgery will not be suitable and the doctor will do a total knee replacement.
• Preparation of the Knee
The surgeon will remove the damaged cartilage from the affected compartment using a surgical saw. This will allow the joint to be prepared for replacement.
• Inserting Fit Prosthesis
After the removal of damaged cartilage and bone, the surgeon will replace them with metallic components to reshape the articular surface. This metallic surface may be held in a position with cement or without cement using the press-fit technique.
• Closing the Incision
At the end of the surgery, the surgeon will close the incision using good skills to decrease the postoperative wound complications.
Risks of Partial Knee Replacement
There are a few complications that occur after the procedure, including the following:
Postoperative infection. The incidence of postoperative infection can be reduced by giving the patient antibiotics both pre and postoperatively.
Blood clots. They involve clots in the lower extremity and lung, and they can be life-threatening; blood thinners can be used prophylactically to reduce the chance of their occurrence.
Bearing fractures. It is a rare complication and occurs in a low percentage of patients operated by nonskilled surgeons.
Postoperative stiffness. It can be agonizing for the patient, but it minimizes overtime.
Arthritis. in unoperated compartments.
Nerve injury. It may lead to obvious disability if involving major nerves.
Vascular injury. It rarely occurs and usually leads to self-limited bleeding.
How Long Does Partial Knee Replacement Last?
It takes 45 minutes to one hour to complete the procedure. After that, you will spend around one hour in the recovery room.
Following your recovery period, you will also be admitted to the hospital rooms, stay there for a few days, and start physiotherapy immediately.
Cost of Partial Knee Replacement
According to studies, the overall average price of partial knee replacement in the United States will be between 25,000$ and 45,000$.
However, determining what is included in that price might be difficult.
Conclusion
The treatment of anteromedial knee osteoarthritis with a partial knee replacement is both comfortable and successful.
Unicompartmental knee replacement is advantageous to Total knee replacement based on the clinical and functional outcomes, decreased morbidity and mortality, and cost-effectiveness. However, the rate of revision surgery is higher.
Greater knowledge of the best criteria for patient selection, and use of unicompartmental knee replacement, forms, materials, and technological advances, have the opportunity to reduce revision rates and increase the lifespan of the prostheses
References
https://emedicine.medscape.com/article/
https://www.ncbi.nlm.nih.gov/pmc/articles/
https://pubmed.ncbi.nlm.nih.gov/
See Also
Peroneal Tendon Subluxation Surgery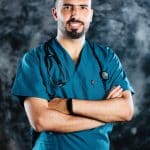 Dr.Sharif Samir Alijla, is a general medical doctor and a well-rounded professional that cares and treats patients from Palestine. I participated in many medical studies and conferences, I've launched a range of community initiatives and taken part in a variety of leadership and change training programs. I worked as an author for many medical websites such as TebFact . I specialized in writing medical articles from authoritative and updated sources in a simple and smooth the way for the reader.