Total Ankle Replacement Cost | Approach | Outcomes
Overview
Ankle replacement surgery has been performed for more than 20 years, but it is significantly less popular than other joints arthroplasty due to the lower frequency of arthritis in the ankle.
Trauma is that the commonest cause of ankle arthritis.
Ankle joint arthrodesis was the standard method of therapy till lately, due to its increasing drawbacks, such as osteoarthritis in the foot joints and stiffness.
Ankle replacement was invented in the nineteenth century, but it was hampered by significant long-term failure rates at the time.
The early prosthetic ankle joints frequently loosened or failed to work, necessitating removal. The Agility Ankle System has undergone various changes since its launch.
The Agility Ankle System is undoubtedly the most used ankle prosthesis.
What is Total Ankle Replacement Surgery?
Total ankle replacement surgery is a procedure that substitutes the damaged ankle joint, and in which the surgeon resurfaces the tips of your tibial bone and talar bone with metallic materials and a plastic filler in between to allow smooth sliding motion.
While ankle replacements are built to manage heavy loads, they are more likely to fail than other joints replacements due to the small surface area involved.
If you plan on continuing to submit your ankle to vigorous activities, ankle fusion surgery may be a preferred alternative.
Indications of Total Ankle Replacement Surgery?
The most common indication for this surgery is ankle joint arthritis that results from:
• Degenerative osteoarthritis that occurs in elderly
• Posttraumatic osteoarthritis
• Osteoarthritis is caused by autoimmune diseases such as rheumatoid arthritis.
• Severe infectious arthritis.
• Osteoarthritis due to hemochromatosis (iron overload disease)
Contraindications of Total Ankle Replacement Surgery?
The operation is done with limited contraindications, both absolute and relative, including:
• Active infection
• Peripheral vascular disease
• Inadequate soft-tissue envelope
• Charcot neuroarthropathy
• Young, active patients
• Previous infection
• Significant lower extremity malalignment
• Obvious ankle instability
• Marked osteoporosis
• Osteonecrosis of the talus
• Malalignment and instability
How Total Ankle Replacement is Performed Surgery?
As with other most surgical procedures, the surgery is done under the effect of general anesthesia.
The steps of the surgery are done in the following order:
Making the Incision
While the patient is in the supine position, the surgeon will use a scalpel and make an approximately 10 cm incision on the front of the ankle joint.
Preparing the Area
The surgeon must take into consideration protecting the superficial peroneal nerve. The joint is entered through the lower part of the tibialis anterior muscle or extensor hallucis longus tendon.
Performing the Cut
The surgeon will perform the tibial, talar, or both cuts according to the type of deformity (if it is congruent or incongruent). Talar tilt is also reduced in different ways according to the type of deformity mentioned before.
At this stage, trial components are used to check for the range of motion and stability.
Closing the Wound
The integrated bony procedures such as osteotomy and arthrodesis govern the post-operative protocol. Then, the surgeon will close the wound layer by layer till reaching the skin and then cover the wound with gauze.
Risks of Total Ankle Replacement Surgery
The following are the possible complications of ankle replacement:
• Postoperative infection ranging from simple superficial infection to deep debleating infection.
• Intraoperative fractures with lateral and medial malleolus are the most commonly involved
• Aseptic loosening of the prosthetic joint
• Osteolysis that is progressive periprosthetic bone destruction
• Delayed postoperative wound healing
How Long Does Total Ankle Replacement Surgery Last?
The operation typically needs 2 to 3 hours to be fully completed. You have to stay in the hospital for 2 to 3 days under observation.
Total Ankle Replacement Surgery Cost
In The United States, the average cost of this surgery is 20,000$ to 24,000$. The medical insurance will cover a part of this cost.
Conclusion
For severe ankle arthritis, there is no mainstay of therapy. In individuals with advanced ankle osteoarthritis, both ankle joint arthrodesis and ankle replacement are viable therapy choices.
To achieve long-term favorable outcomes following treatment in patients who have had total ankle replacement, a comprehensive preoperative evaluation and preparation are required, with careful consideration of all contraindications, as well as appropriate patient collection.
If current ankle implant types are adopted, 70 to 90 percent of success can be attained after ten years.
See Also
Reverse Shoulder Replacement Surgery
References
https://www.uofmhealth.org/conditions-treatments/cmc/foot-and-ankle/arthritis-ankle
https://www.ncbi.nlm.nih.gov/pmc/articles/PMC4390826/
https://www.medscape.com/viewarticle/537880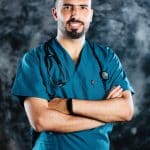 Dr.Sharif Samir Alijla, is a general medical doctor and a well-rounded professional that cares and treats patients from Palestine. I participated in many medical studies and conferences, I've launched a range of community initiatives and taken part in a variety of leadership and change training programs. I worked as an author for many medical websites such as TebFact . I specialized in writing medical articles from authoritative and updated sources in a simple and smooth the way for the reader.