Breast Augmentation | To Be Attractive
Overview
Breast augmentation, commonly known as augmentation mammoplasty, is a procedure that increases the size of the breasts. It includes inserting breast implants beneath the breast tissue or the chest muscles.
Breast augmentation is a way for some ladies to feel more confident.
For others, it's a necessary aspect of breast reconstruction due to a variety of diseases
Consult a plastic surgeon if you're considering breast augmentation.
Make sure you know what surgery entails, including the risks, complications, and recovery.
What is Breast Augmentation?
breast augmentation is a cosmetic surgical procedure that involves the implantation of silicone or saline breast implants to increase breast size and appearance.
The ultimate goal of breast augmentation, according to a cosmetic surgeon, is to improve a patient's natural proportions and create a more symmetrical, physically acceptable breast profile.
The process is designed for a woman's specific requirements.
Breast Augmentation Indications
Replacement of breast tissue (breast reconstruction) that has been injured by trauma, cancer, or maldevelopment.
A revision breast augmentation procedure is used to repair or revise a previous breast augmentation procedure.
Primary augmentation enlarges the size of the breast or changes the contour and texture of the breast for cosmetic purposes.
This may be done to boost self-esteem, correct breast size reduction after pregnancy, or address size inequities.
Before Breast Augmentation
The most essential decision you'll make if you're considering breast augmentation is who will do the procedure.
When you meet with a cosmetic surgeon, inquire about the number of breast augmentations he or she has performed, and make sure to look at plenty of before and after images during your consultation to get a sense of the surgeon's aesthetic style.
And here are some points to discuss with your surgeon during the consultation
Type of filling material. Implants made of saline, Silicone Gel, or Highly Cohesive Silicone "Gummy Bear" Neither is "better," but there are some considerations to consider in terms of cost, comfort, and incision requirements. Your cosmetic surgeon will assist you in determining which implant kind is best for you.
Appearance. Saline and Silicone Gel implants are typically round, whereas gummy bear implants are available in a variety of shapes and sizes. Round implants will give you a bigger upper pole (the top half of your breast), whereas shaped implants will give you a gently sloping breast profile. With the help of a good cosmetic surgeon, both can appear very natural.
Size. Breast implants are available in sizes ranging from 150cc to 800cc or more.
Many patients require a different-sized breast implant for each breast, which contributes to achieving the best symmetry possible. The size you select is determined by your current breast size, your personal goals, and the advice of your cosmetic surgeon.
Types of Surgical Incision for Breast Augmentation
Axillary Your cosmetic surgeon will put the breast implant through a small incision under the armpit, using a sophisticated camera and equipment to guarantee ideal placement. this procedure leaves a little scar in the armpit but results in breast augmentation with no scar on the breast.
Inframammary This procedure includes making a small incision in the inframammary fold, which runs beneath the breast. This creates a tiny, 1to 2-inch scar that blends into the crease. A broader entry point allows a cosmetic surgeon to install larger silicone implants or gummy bear implants with precision using this incision type.
Peri-Areolar The scar will be positioned inside this natural transition in pigmentation since the incision is made along the outside edge of the areola. If a modest to moderate breast lift is being performed at the same surgery, cosmetic surgeons will frequently use this incision type.
During Surgery
The surgeon will separate your breast tissue from your chest muscles and connective tissue after making an incision. This produces a pocket behind or in front of the chest wall's outermost muscle (pectoral muscle). The implant will be inserted into this pocket and centered behind your nipple by the surgeon.
Once in place, saline implants are implanted empty and subsequently filled with sterile saltwater. Silicone implants come with silicone gel pre-filled. The surgeon will repair the incision with stitches (sutures) and wrap it with skin adhesive and surgical tape once the implant is in place.
Your surgery may take 1 or 2 hours to be done. almost breast augmentation procedure is performed under general anesthesia. Your surgery is outpatient-based; Therefore, you will be discharged from the hospital two or three days after surgery.
Breast Augmentation Complications
bleeding, swelling or collection of fluid, wound infection, sensation changes in the breast or nipples, and rupture are the risk of the breast augmentation procedure.
Postoperative Recovery
You have to follow your surgeon's instructions to ensure optimal healing.
Stop intense exercise for about 2-4 weeks.
After breast augmentation, use a supportive surgical bra or sports bra for a period of time.
References
https://www.americanboardcosmeticsurgery.org/
https://www.americanboardcosmeticsurgery.org/
https://www.healthdirect.gov.au/
See Also
What to Expect After Breast Implant Removal
Can a Mommy Makeover Reduce My Stretch Marks?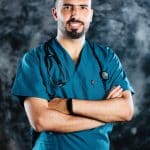 Dr.Sharif Samir Alijla, is a general medical doctor and a well-rounded professional that cares and treats patients from Palestine. I participated in many medical studies and conferences, I've launched a range of community initiatives and taken part in a variety of leadership and change training programs. I worked as an author for many medical websites such as TebFact . I specialized in writing medical articles from authoritative and updated sources in a simple and smooth the way for the reader.