Total Shoulder Replacement | Indications | Cost
Overview
Total shoulder arthroplasty is gradually being used to manage not just the discomfort associated with shoulder joint arthritis, but also to bring patients to the level of physical activity and functionality they had before the onset of arthritis. While it is possible to return to sports and exercise following this operation, it is limited.
A large number of patients have pain-free function a year after the operation, allowing them to train the shoulder to regain strength and mobility. The majority of patients can resume swimming, yoga, and other physical activities that they had abandoned due to shoulder discomfort.
What is Total Shoulder Replacement?
Total shoulder replacement (shoulder arthroplasty) involves removing components of the shoulder joint and replacing them with prosthetic ones to relieve discomfort and restore range of motion and mobility.
It is quite effective in alleviating the intense pain and stiffness associated with advanced arthritis.
The arthritis of the shoulder joint is a common condition caused by long-term use/overuse of the shoulder. This leads to the degeneration of the cartilage that forms the articular surface of the joint.
When cartilage becomes damaged the bones face each other and cause painful movement of the joint.
Indications of Total Shoulder Replacement
The procedure is used to treat various problems that include:
Osteoarthritis. It mainly affects persons over the age of 50, but it can also affect younger people.
Rheumatoid arthritis. It is a systemic inflammation of the membrane surrounding the joints.
Traumatic arthritis. It usually occurs after severe injury to the shoulder joint.
Prolonged rotator cuff tear. This condition leads to shoulder joint changes and degeneration over time.
Avascular necrosis. It is bone destruction due to interrupted blood supply; steroid use is a common cause of this condition.
Severe shoulder fracture.
Contraindications of Total Shoulder Replacement
There are a few contraindications of this surgery including:
• Low glenoid bone mass
• Arthritis due to the rotator cuff tear
• Dysfunction of the deltoid
• Rotator cuff tear that can't be repaired
• The glenoid prosthesis has a high risk of slipping.
• infections that are ongoing
• brachial plexus dysfunction
Equipment of Total Shoulder Replacement
The surgery is done with the following set of instruments:
• Fukuda retractor
• Drill
• Scalpel
• Knife
• Morse taper
• Osteotomes
• Humeral stem
• Plastic spacer
• Glenoid sphere
• Glenoid fixation device
• Compression screws
How Long Does Total Shoulder Replacement Last?
The typical length of a total shoulder replacement surgery is 2-4 hours. This is, however, a rough approximation, and some people's surgery lasts even beyond that average.
Cost of Total Shoulder Replacement
Shoulder surgery costs anything from 5,000$ to 20,000$ in general. Shoulder surgery can cost up to $50,000 on rare occasions, but this is exceptional.
How Shoulder Replacement Surgery is Performed?
Before starting, the anesthesiologist will give you medication (general anesthetic) to make you sleep in the beach chair position.
The surgery is performed in the few following steps:
Making An Incision
After the patient goes asleep, the surgeon cuts into the skin, being careful not to touch the cephalic vein, which is the main vein to return blood from the limb to the heart, and it should be preserved.
Separation of the Muscles
The surgeon will use a retractor to separate the deltoid and pectoralis (major and minor) muscles to allow wide access to the shoulder and minimize the nerves injury.
Removing the Bone
In this step, the surgeon will remove the damaged bone from the shoulder using surgical instruments.
Attachment of the Prosthesis
After removal of the damaged bone, the surgeon will bring the joint prosthesis and place it in the anatomic position. The prosthesis is produced from metallic elements.
Closure of the Incision
The doctor will clean the wound with a swab and close it with suitable sutures.
Risks of Total Shoulder replacement
There are a few postoperative complications of the surgery and involve:
• Progressive glenoid dysfunction
• Postoperative instability
• Postoperative infection
• Aseptic loosening of the implant
• Nerve and muscle dysfunction
• Heterotopic ossification (presence of bone in unusual sites)
• Nonunion and malunion
• Periprosthetic fracture
• Persistent pain
• Hypotension
Conclusion
Over the last few years, total shoulder replacement has advanced dramatically. Shoulder replacement has a wide range of implants available. Most patients with primary and posttraumatic osteoarthritis, as well as inflammatory diseases of the shoulder joint, will benefit from total shoulder replacement.
Overall, total shoulder replacement gives good pain control for most patients; nevertheless, these surgeries are not without risks, and revision surgery is sometimes required.
See Also
References
https://www.ncbi.nlm.nih.gov/
https://pubmed.ncbi.nlm.nih.gov/
https://www.medscape.org/
https://www.hss.edu/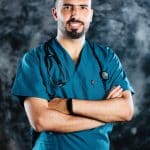 Dr.Sharif Samir Alijla, is a general medical doctor and a well-rounded professional that cares and treats patients from Palestine. I participated in many medical studies and conferences, I've launched a range of community initiatives and taken part in a variety of leadership and change training programs. I worked as an author for many medical websites such as TebFact . I specialized in writing medical articles from authoritative and updated sources in a simple and smooth the way for the reader.