Vertebroplasty | Definitions | Indications | Techniques
Overview
The most common brittle fractures currently are osteoporotic compression fractures. A vertebral compression fracture can occur in osteoporosis patients as a result of relatively small minor trauma, including sitting in a chair suddenly.
To produce this type of compression fracture of the vertebral body in younger people, a greater, axial force will be required. Traffic accidents and falls from a high are common causes of non-osteoporotic lumbar compression fractures.
Compression fractures can be caused by infectious and neoplastic diseases that damage the vertebral bones.
These can result in serious physical limits, such as spinal discomfort and occupational impairment. Compression fractures are susceptible to progress with time, and compensatory increases in axial strain may promote the compression of the surrounding vertebra.
Because of the great occurrence of this lesion, it has a huge impact on the patient, and there has been much debate about the best therapeutic interventions.
Vertebroplasty is a percutaneous noninvasive procedure for the treatment of symptomatic, non-healing vertebral osteoporotic fractures.
What is Vertebroplasty
Vertebroplasty is a non-invasive surgery for treating compression fractures in the vertebrae.
Backbones that have fractured or shattered, commonly caused by osteoporosis, are injected with composite material (usually polymethyl methacrylate). As the concrete dries, the fractures are stabilized and your vertebrae are supported.
Vertebroplasty can decrease discomfort, increase range of motion, and minimize the need for pain meds in persons who have significant, crippling pain from a compression fracture.
Indications of Vertebroplasty
The most common indication of vertebroplasty is severe, symptomatic, compression fracture that doesn't respond to nonsurgical treatments. The compression fractures are associated with the following risk factors:
• Racing. Because of a hereditary propensity, Asian females are more likely to develop osteoporosis.
• Certain age groups. Females above the age of 50 are more susceptible.
• Low body mass index. Due to their frail skeletal structure, slim females are more susceptible to acquiring osteoporosis.
• Menopause at an early age. Osteoporosis is a risk for females who reach menopause before the age of 50.
• Cigarette smoking. has been linked to a decrease in bone density.
• Malignancies. Some tumors spread into vertebrae, including multiple myeloma and lymphoma, weakening the vertebral bone and making it susceptible to fracture.
• Previous compression fracture. It markedly increases the risk of future fractures.
Contraindications of Vertebroplasty
There are a few contraindications to this procedure and include the following:
• Asymptomatic compression fracture
• Bleeding tendency. May increase the risk of intraoperative and postoperative complications. These include the patients with severe hemophilia.
• Infections. Bone infections that involve the disk and bone cortex (diskitis and osteomyelitis, respectfully)
• Fractures of the posterior body wall. This can lead to a severe compression fracture in the future.
Equipment of Vertebroplasty
The following tools are used in vertebroplasty:
• Injection gun
• Vertebroplasty needle
• Connecting tube
• Cement shaker
How Long Does Vertebroplasty Last
The average duration of the surgery is 1 hour for every vertebra treated. You should remain in the bed for extra an hour to permit the cement to harden.
How Vertebroplasty is Performed?
Vertebroplasty is a simple radiographic operation that is usually done as an outpatient surgery in most hospitals. The surgery is painless, and only minimal anesthesia and analgesics are required.
• Making an Incision and Needle Insertion
The transpedicular implantation of a bone biopsy needle into the diseased spine with fluoroscopic or CT assistance. A bone biopsy needle is used to accomplish vertebroplasty via a transpedicular or peripedicular approach.
An anterolateral technique with a bone biopsy needle is used to gain entry to the spinal lesions.
• Cement Injection
After positioning the bone biopsy needle, methyl methacrylate is infused into the malformed vertebra. the acrylic is then processed for implantation in aseptic conditions.
The dried, powdered polymer is combined with barite or tungsten to improve the structure's visibility during imaging studies.
The polymer-metal combination is then combined with a methyl methacrylate liquid to achieve a viscosity equivalent to toothpaste. The acrylic cement then is inserted through the trocar using a syringe or a direct drive handle syringe.
The infusion is repeated till the vertebra is completely opacified or the first evidence of expansion into the epidural venous plexus appears.
• Transient Injection Pause
The paraspinous veins are frequently opacified. When the vein becomes partially opacified, the acrylic infusion is paused for about one minute to permit the cement to set inside the vein. Infusion can then be continued, and the acrylic will take a new, less resistant course.
Risks of Vertebroplasty
The following are possible risks of this surgery:
• Bleeding and loss of blood
• Rib or other surrounding bone fractures.
• Fever.
• Soreness of the nerve roots.
• Infections.
• Before it solidifies, cement flows around the outside of the spine.
Cost of Vertebroplasty
The surgery might cost anywhere between $4,500 and $6,000.
See Also
References
https://pubmed.ncbi.nlm.nih.gov/12595329/
https://pubmed.ncbi.nlm.nih.gov/29618171/
https://www.radiologyinfo.org/en/info/vertebro
https://www.mayoclinic.org/tests-procedures/vertebroplasty/about/pac-20385207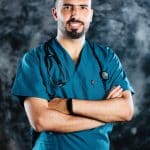 Dr.Sharif Samir Alijla, is a general medical doctor and a well-rounded professional that cares and treats patients from Palestine. I participated in many medical studies and conferences, I've launched a range of community initiatives and taken part in a variety of leadership and change training programs. I worked as an author for many medical websites such as TebFact . I specialized in writing medical articles from authoritative and updated sources in a simple and smooth the way for the reader.