A breast cancer survivor has gone viral after sharing this powerful photo that shows her breastfeeding her baby son while proudly displaying the scar from her mastectomy.
32-year-old Bo Smith from Sugar Land, Texas, posted the powerful photo of her with 10-day-old son James on Facebook and wrote: 'Never be ashamed of a scar'.
"Never be ashamed of a scar. It simply means you were stronger than whatever tried to hurt you. I can't begin to explain how this feels everyday to be able to breastfeed my son, after losing one breast to cancer and being told I may not ever have this sweet boy in my arms. I am not ashamed of this body. This is what continues to remind me of how lucky I am to be here today. "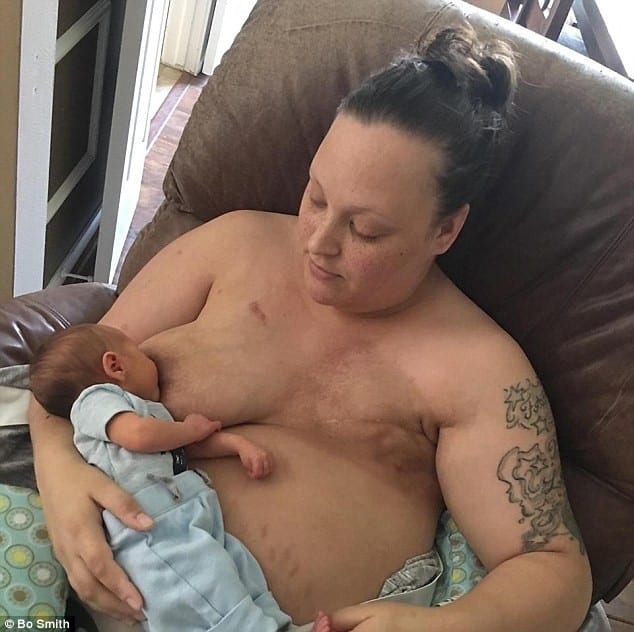 In an interview with FEMAIL, Bo explained how she was diagnosed with inflammatory breast cancer, a rare and aggressive form of breast cancer, after discovering a lump in 2015.
She also revealed that her fiancé James Cofer, 34, had proposed to her just a month before, and they were making plans for their wedding before she was diagnosed.
'I was devastated. My first words were, "My life is over. I will never be a mom," she said.
'I still remember sitting with my oncologist as she held my hand and explained that there was only a 40 per cent chance of living to five years, and feeling so drained and numb that I couldn't even cry.'
Bo underwent chemotherapy treatment, before having a mastectomy of her left breast.
'I opted to keep my right breast so that I may one day have a chance to breastfeed my future children,' she explained.
After undergoing radiotherapy, she was told that she was in complete remission, but discovered the cancer treatment had affected her fertility.
'Two years after treatments, I was cleared to try to get pregnant,' she explained. 'My doctor explained that we may have the best luck just going straight into IVF because of how my fertility was affected, but I wanted to try as naturally as possible in the beginning.'
According to her, she placed on a hormone therapy drug, letrozole, to help her conceive naturally. Three days before Christmas last year, she discovered that she was pregnant.
'I woke up and took a test, expecting a negative. It was positive! I took about 50 more just to be sure,' she said.
Describing how it felt to welcome baby son James into the world, she said: 'I felt I would never be here today.
'I watched friends pass away from the same disease I had. I watched women lose so much and I thought there was no hope, but hope always. It's there. Keep faith.'
Explaining why she decided to post the picture on Facebook, she added: 'I posted the image as a way to show that no matter what scars you hold, there are always ways to find a positive to them.
'Yes, I lost my breast, but I still have my other one to feed my beautiful son. Scars are nothing more than a story of where you have been in your life, and you should be proud of them and yourself, for getting through whatever it was that got you them.'